Diesel Power Australia Performance Modules
Author: Jack Date Posted:1 February 2017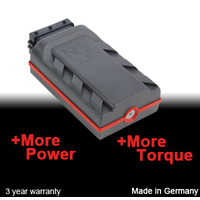 We are proud to announce we are now authorised dealers for the range from Diesel Power Australia.
You can order a chip for your vehicle by clicking this link, or calling us on 1800 LIFT KIT (1800 543 854)
DIESEL POWER Performance Chip Modules are an aftermarket performance accessory designed to make more power and torque for your common rail diesel 4wd, petrol turbo charged cars and trucks. Offering increased drive-ability of your vehicle for a number of uses.
When you buy a Diesel Power Performance Chip Module you take advantage of a strong German engineered and manufactured product with over 20 years of diesel tuning and development of performance modules. Diesel Power does one thing and this is performance tuning modules for turbo diesel and petrol motors. They are the world market leaders in plug in user friendly Diesel Power Performance Chip Modules.
HOW DOES THE DIESEL POWER PERFORMANCE CHIP SYSTEM WORK?
The Diesel Power has two types of performance chip modules; single channel fuel rail modules and two channel fuel rail and boost pressure sensor modules.
Single Channel
The single channel fuel rail performance chip module is an interceptor module; it intercepts signals coming from the ECU going to the fuel injection rail and sends modified signals back to the ECU from the fuel rail.
Dual Channel and Boost Sensor Module
The dual channel fuel rail and boost pressure sensor performance chip module intercepts signals coming from the ECU going to the fuel injection rail and sends modified signals back to the ECU from the fuel rail. It also offers direct modification of the boost signal which optimises air flow into the motor creating even more power and a smoother torque delivery. Diesel Power Performance Chip Modules are engineered specifically for individual motors, meaning tighter fuel mapping and better performance.
Our modules work by:
Diesel Powers' ACTIVE software adjusts air fuel ratios based on engine load & RPM - through the regulation of fuel pressure in the common rail fuel injection system. Fuel rail pressures modified by the performance chip module NEVER exceed the factory specifications of the motor, simply they increase the pressure or decrease the pressure based on what you are doing with the vehicle at the time. The engine diagnostic circuit would produce a check engine light if there was ever any running conditions that were outside of the manufacturers specifications.
Increasing airflow to the engine - turbo charger boost pressure increases earlier in the rpm range in response to the increased fuelling, this increase in airflow combined with improved fuelling allows much more efficient running conditions for the motor, improving driveability and performance from your vehicle.
A vehicle producing more power at lower rpm saves fuel - Fuel efficiency is the bi-product of an engine that has increased torque at lower rpm when driven accordingly.
The Diesel Power ACTIVE software automatically adjusts to the vehicles load and RPM - Customers experience an increase in power (Torque and Kilowatts) while decreasing fuel consumption when driven accordingly.
User adjustable fuel control - There is no need for complicated laptop tuning, you can adjust the fuelling using the dial on the front of the module to modify for additional performance enhancements such as larger exhaust systems, to get more power or to tune more for economy depending on your application.
Every diesel engine optimisation module is made to demanding German quality
standards using German manufactured military grade electronic hardware.
QUICK INSTALLATION
Easily install the Diesel Power System in less than 30 minutes. Easy to remove or bypass for vehicle servicing. A bypass plug is included with every module to remove the module without removing the module harness if desired.
FAQ

Q: Will the Diesel Power module improve fuel efficiency?
A: Yes, based on your driving style you may see a 8% improvement in fuel efficiency due to the significant increase in low RPM torque. Fuel efficiency will vary due to individual driving styles.
Q: Is there a warranty on the Diesel Power module?
A: Yes, we give a 3 year direct replacement warranty for any faulty Diesel Power module.
Q: Fitting
A: Fitting varies from vehicle to vehicle, but in most cases it takes no more than 30 minutes
Q: Will the Diesel Power module cause any damage to the transmission?
A: No, however hard driving styles or abuse can cause damage to transmissions even at stock power levels.
---
Comments (2)
God help me, I put a

23 February 2017

God help me, I put aside a whole afroenotn to figure this out.
---
Duane

By:

Duane Monckton

on 14 February 2017

Would this take the turbo lag outvof my 2014 2.5 liter Triton
---
Leave a comment