This Fuel Manager Pre-Filter Kit is designed to suit:
Toyota Landcruiser 200 Series 1VD-FTV 2007-on - 3 Battery Compatible
Whether youƒ??re driving in the city or across the Nullabor, the Australian climate can be harsh on our finely tuned diesel engines.
With the tolerances in modern diesel engines, itƒ??s crucial that every system of your vehicle is working as reliably as possible, and a fuel management system is a great addition to any diesel engine to help protect both its precision and reliability. The Fuel Manager is essentially insurance for your fuel system, acting as a pre-filter and removing 99% of fuel contaminants before it even reaches the filter originally placed in your car.
Any water getting into a diesel engine can be absolutely disastrous, and with the varying quality of Diesel fuel available in rural areas, this can be a problem that both generates thousands of dollars in repair bills AND leaves you stranded. For this very reason, The Fuel Manager also includes a fuel/water separator (the small clear bowl at the bottom) to ensure only the cleanest fuel is being passed through your injectors and into your engine.
All of our kits include:
Fuel Manager 30 Micron Filtration Unit
Full Colour Specific Fitting Instructions
Vehicle Specific Stainless Steel Mounting Bracket
Mounting Bolts, Washer & Nyloc Nuts
Quality High-Pressure Fuel Hose
Fittings & Blanking Plugs
Hose Clamps
Thread Sealant
Why use a 30 Micron filter instead of a 5, 3 or 2 Micron?
It is a common misconception that by fitting the smallest filter possible, you will have the best protection. This couldn't be more incorrect.
The factory filter of most modern diesel vehicles is between 5 and 10 microns. This is the level of filtration that the manufacturer of the vehicle (the people that know the filtration requirements most) have worked out to be optimum for the components. By fitting a 30-micron pre-filter you are giving the fuel system the first line of defence, and stopping not only the water from coming through but also stopping the larger contaminants. We do this to stop the factory filter from loading with contaminants too quickly, and most importantly to stop water from coming through and damaging the fuel system.
If you are fitting a 5, 3 or 2 Micron filter kit after the factory filter, your secondary filter will be removing next to no contaminants, as the bulk have been filtered by the factory filter. To add to this, a 2-micron filter can restrict the diesel flow through it. The main 3 things that diesel do in our vehicles is to not only fuel the vehicle but to also lubricate and cool the injectors. Around 80% of the fuel pumped through is used to cool the injectors, so by fitting a restrictive secondary filter, you may be causing injector overheating and irreversable damage without even realising it.
In all cases, we recommend using a 30-micron pre-filter instead of a restrictive secondary filter.
Direction Plus Pre-Filter Kit VS Competitor 2 Micron Secondary Filter Kit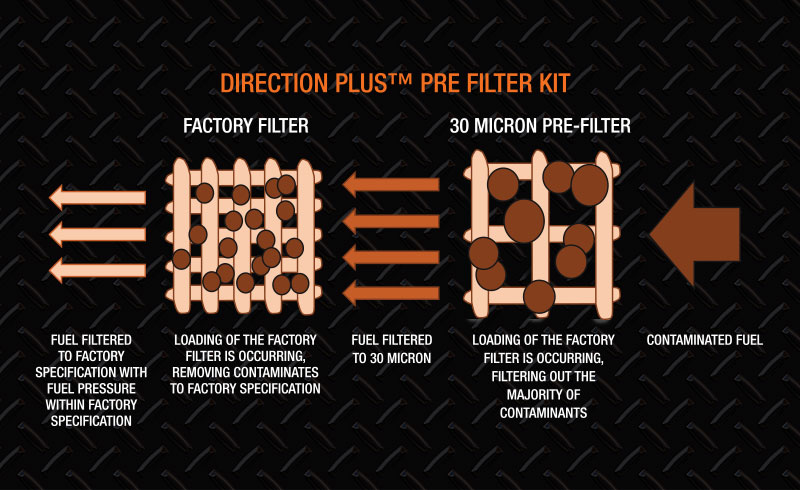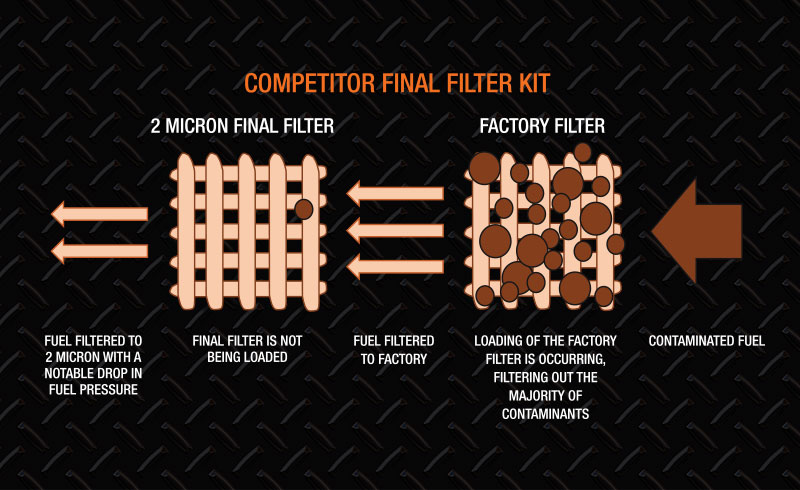 (FM614DPK)
| | |
| --- | --- |
| SKU | FM614DPK |
| Barcode # | 9.32E+12 |
| Brand | Fuel Manager |
| Shipping Weight | 4.0000kg |
| Shipping Width | 0.160m |
| Shipping Height | 0.340m |
| Shipping Length | 0.255m |
Be The First To Review This Product!
Help other Auto Parts Co PTY LTD users shop smarter by writing reviews for products you have purchased.
You May Also Like
Others Also Bought
More From This Category