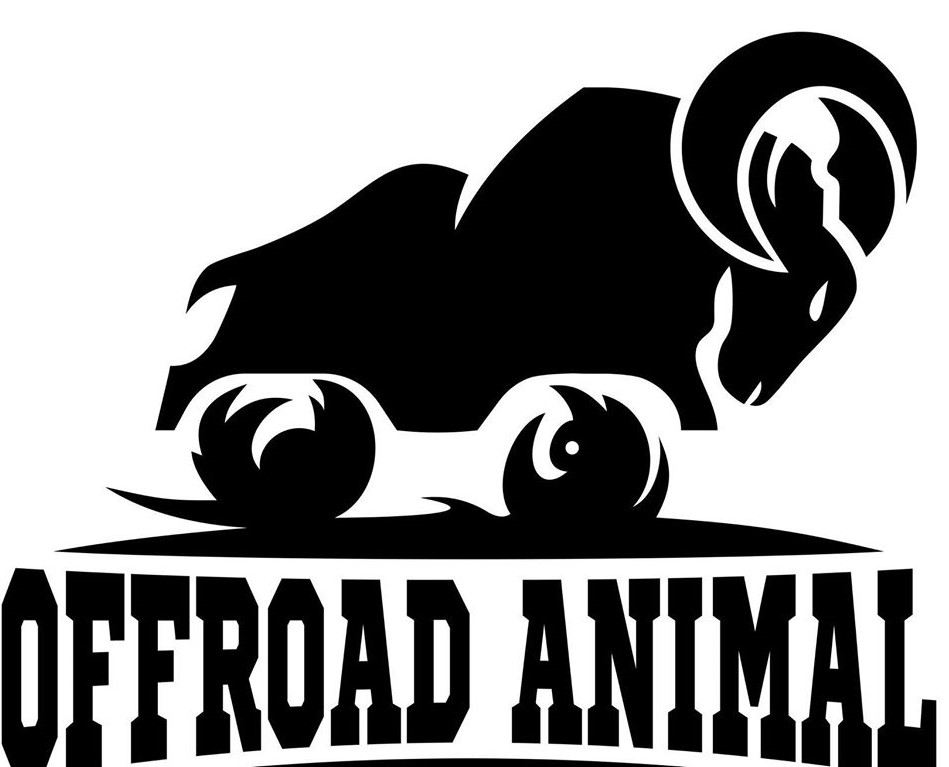 Do you have gear you want/need to mount on the roof. Well have no fear Offroad Animal has you covered.
The WK2 Grand Cherokee has an interesting roof set up. Jeep put these 12 threaded buttons (6 per side) on the roof. Nice right. Well almost. First of all they used the front and back ones to hold the fancy channels used to take roof bars, then they are also held down via the 4 in the middle.
Biggest problem is they are located on a section the the roof that can't really take much weight at all. Hence why Jeep gave the roof some crappy load rating.
This is because if you put more load up there you're going to damage your roof.
Then we have some roof rack manufacturers (not Offroad Animal) who mount their roof rack directly onto these buttons. Tisk Tisk, bad choice. Say hello damaged roof if you put anymore weight up there (don't forget to add the weight of the roof rack into the total weight up there too)
Offroad Animal has a cool system that ups the roof loading to 120kg dynamic (driving) and 240kg static (sitting still.) We manufacture these super slim rails that push the load to a strong part of the roof (join of Roof and sides).
Not only that but they use the rolled steel rail to join all 6 roof buttons per side for one strong system. So just like that you can up your roof loading to 120kg. Nice right. We think so.
Here is a picture of a damaged roof button from putting to much weight on the factory system.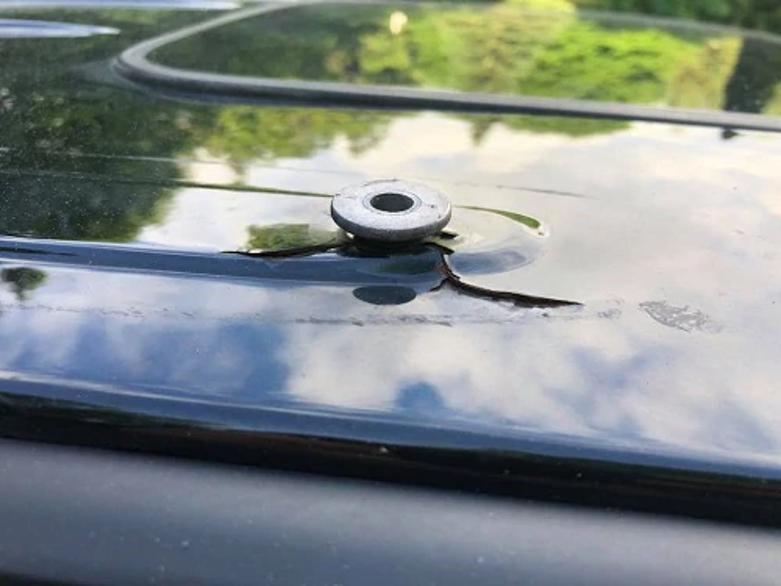 Benefits:
Carry lots of gear on your roof
Slim line style as to not impede too much on overall height
Largest carrying area of all competitors 1835mm x 1235mm
Light weight rack fully made from Aluminium only weighs 22kg, 29kg including steel rails
Easy mounting of accessories with square cut outs in slats allow for cup head bolt so only one tool required
Lots of cut outs for easy hooking on of straps. No need to fiddle with eye bolts if you don't want to.
Easy to install with no drilling
Great place to mount Roof top tents and awnings
Will not damage your roof like some competitor racks
Features:
Rated to 120kg dynamic and 240kg static (rated by independent tester)
Steel components are Zinc plated then powder coated matte black
Aluminium components are chromate coated then powder coated matte black
Wind deflector standard for minimal wind noise
Works with all sun roofs
Only adds 125mm to roof height.
Easy to bolt together setup with basic hand tools
Works around shark fit antenna and not over it so no impedance on reception.
Optional Exitrax, Max Trax brackets available
Optional Awning mount brackets available
Optional tyre carrier available
Fits most aftermarket shovel, axe or high lift jack mounts.
Included in Kit:
1 x Roof rack side LH
1 x Roof rack side RH
5 x Roof rack panels
1 x Wind deflector
1 x LH rear panel
1 x RH rear panel
1 x Wind deflector Brace
1 x Rear joiner
1 x LH roof mount
1 x RH roof mount
3m of Pinch weld black rubber
2 x logo plates
Hardware as required (nuts and bolts)
Suits:
Jeep Grand Cherokee WK2 (2011-2020) unless you have one of those rare odd ones with out roof buttons. Check 1st before ordering.
Additional Info:
24 Months Warranty
Suggested Install time Approx 2 hours
Install Difficulty 3/10
Click PDF tab to download fitting instructions
Check out the Offroad Animal WK2 Grand Cherokee Build Video Below

Check out the Offroad Animal Launch Video Below:
(RR-JGC-WK2-11-ASM0)
| | |
| --- | --- |
| SKU | RR-JGC-WK2-11-ASM0 |
| Brand | Offroad Animal |
Be The First To Review This Product!
Help other Auto Parts Co PTY LTD users shop smarter by writing reviews for products you have purchased.
Others Also Bought
More From This Category