Stedi's Type-X LED driving light sets the new standard in high performance auxiliary lights. Stedi have truly created a masterpiece which not only contends with the market leaders, but quite literally knocks them off the podium. Not only is their new Type-X 1/3rd of the price of a certain well known, their Type-X also happens to shine further, wider and brighter.
KEY PERFORMANCE METRICS
STEDI TYPE-X lays down a real, NATA Accredited Photometric Lab tested 13,310 Lumens, which is 32% more net light volume than the current market leader's offering, costing more than 3 x our price.
A staggering peak beam distance of 838m @ 1 Lux |
Remember their 8.5inch 320W INFERNO LED Spot Lights? Our customers were blown away by the beam distance back when we released these. Well, our new Type-X throw 280m further!
IMPORTANT: Don't confuse our Isolux and Lumens with the eBay lux and lumens, which are totally without foundation. Our published specifications are comprehensively tested independently by a NATA Accredited photometric laboratory.
BUILD QUALITY THAT LETS YOU GO ALL NIGHT
4mm thick Stainless U Bracket | (competitors use 2.5 -3mm)
A360.0 Cast Housing | Boasting superior strength and corrosion resistance
3mm Thick GE Lexan Lens with hard coating | Virtually unbreakable & scatch resistant
100% Polyester UV and abrasion resistant powder coat
IP68 | Dust & Particle tight + Water-proof up to 3 meters
Pressure Equalization vent with Gore® membrane | Protects against water ingress, dust & contaminants.
Environmentally Sealed Deutsch® DT2 connector
Our Pure-Drive circuit design allow 97% of input power to go directly to LEDs
EMI & RFI Suppression circuitry
Warranty | 5 Years
BEAM CHARACTERITICS | DESIGNED TO CONQUER THE DARK
Each TYPE-X driving light comprises 40 of OSRAM's® finest OSLON® LED, selected for its high luminous flux and perfectly match optical properties.
TYPE-X Driving light have 12 wide-beam reflectors built in, which form a lateral shaped flood pattern designed to minimize valuable light wasted up to the sky.
Crystal White 5700K Colour temperature offers stunning clarity and definition with excellent Colour Rendering Index (CRI)
SPECIFICATIONS
LED OSRAM (Oslon)
ACTUAL LUMENS 13,310Lm
AMP DRAW 7.9A @ 13.2v
LIFESPAN 50,000 Hours
INGRESS PROTECTION IP68 | Submersible up to 3m
FULL BEAM SPOT 5.8°
HALF BEAM FLOOD ANGLE 50°
COLOUR TEMP 5700K
VOLTAGE COMPATIBILITY 12v & 24v
PEAK BEAM DISTANCE @ 1 LUX 838m
WEIGHT (each) 3.425kg
CERTIFICATES CE, RoHs, IP68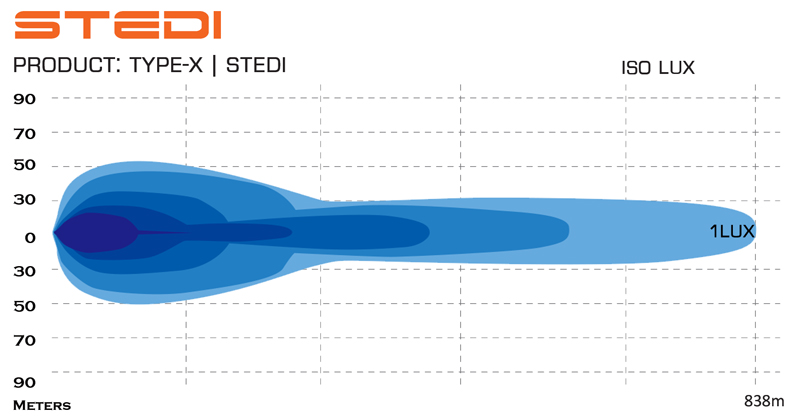 WHAT'S IN THE BOX
2 x 8.5inch STEDI TYPE-X LED Driving Lights
2 x Protective Clear Covers
2 x Protective Black Out Covers
1 x Easy Fit High Beam Wiring with DT2 Sealed Connectors, H4, HB3 Adapter plugs to high beam. 60A Relay, Fuse, Switch
3 Series Stainless Steel Nuts and Bolts
Rubber Shock Dampener
Wiring Instructions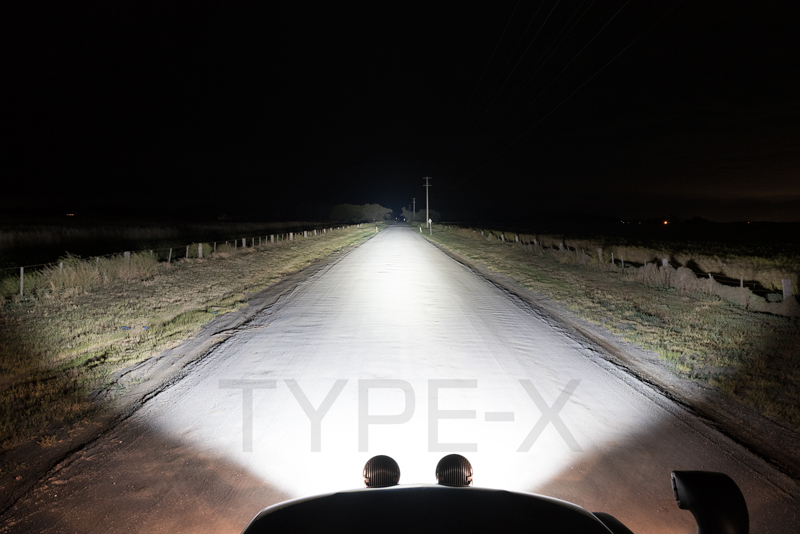 (17274)
Type x driving lights

By:

Craig

on 21 April 2017

If you've ever wondered when it will be possible to combine the throw of hid with the instant light and spread of led then look no further than these beasties. These lights significantly outperform my previous combination of 2x 55w genuine 9" hid and genuine 22" cree lightbar in every area. Finally I don't have to wait for the hid warmup and peer over my lightbar for obstacles when offroad. The natural colour rendering of the osrams is superb, and the throw has to be seen to be believed - the photo simply does not do justice to the incredible penetration and near perfect pattern of these lights. Add to that the impeccable build quality, solid stainless brackets and capable wiring loom with low voltage drop, and they really are a standalone lighting solution for every situation. I had previously tried another cheaper, similar looking product from a well known 4wd warehouse, yes they were 'bright' but not anywhere in the same league for colour and penetration, and the road dazzle made them fatiguing on my eyes. For the additional money these are a huge step up in quality, performance and efficiency, you won't be disappointed! My only gripe is that the supplied 6x stainless mounting bolts are too long and need to be cut to fit an ARB bar - how about some 25-30mm ones? Top product, top service. Get some.




(5)
In awe

By:

Pauly

on 21 April 2017

My goodness these are magnificent. The only way to really appreciate just how good these are is to drive with them. From the moment I opened the packaging, to the minute I held the lights in my hands it was clear that these lights were designed with no detail left to chance. I thought they looks amazing in the photos, but even better when your holding them. I've read all the reviews about Stedi and knew you guys are the ducks nuts, and now i see exactly why. Other sellers should take a leaf out of Stedi's book, quality product, outstanding performance, great customer service, and fair prices. thanks lads you guys have a customer for life.




(5)
Type x driving lights

By:

Matt

on 21 April 2017

Easy to install well worth the money bloody awesome light output. Fast postage and a pleasure to deal with




(5)
Turns night into day!!

By:

Pattsy

on 21 April 2017

I have had many sets of spot lights on various cars through the years and never before have I seen lights so bright and whiter than these STEDI lights. Pure white light and a beam that seems to go forever. Easy to install and well worth the price. Awsome lights!!!! Also fast delivery. 1 week from eastern states to WA




(5)
Brilliant

By:

Simon

on 21 April 2017

Fitted to a new SR Hilux. improved night time visibility by about 300%. Customer service - outstanding. Item and supply quality - outstanding. Visibility improvement- outstanding. Cannot recommend highly enough.




(5)
---
Others Also Bought
---
More From This Category